Named the most innovative global MDR service provider by Frost & Sullivan
Over 300 active customers trust DeepSeas to activate, operate, and optimize cybersecurity managed detection and response (MDR) programs.
Don't Take Our Word For It
Is Your Cyber Defense Deep Enough?
Explore the problems you're likely facing along with our approach to solving them.
Managed Detection and Response:
MDR vs. EDR vs. XDR
DeepSeas is on a Mission to Become the World's Deepest Cyber Defense as a Service Provider
Talent | Tradecraft | Technology
Our Deeply Experienced Team responds to some of the most advanced cyber threats in both the public and private sectors.
Driven to make world-class cyber defense outcomes accessible to all organizations
Served the US intelligence community, fortune 500 cyber defense teams, and world-class enterprise security consulting firms
Delivers always-on detection and response to cyber threats and high fidelty confirmed threat activity notifications
NSA-certified response procedures neutralize threat events before they can impact your business
Enables continuous dynamic defense against threat actors who are frequently changing the way they attack your organization
Patrols hundreds of organizations to identifiy and analyze emerging threats and malware
Observes and interacts with threat actors directly through dark web research to understand, collect, curate, and apply intelligence gathered through global intelligence sharing communities
DeepSeas brings calm to your cyber defense voyage
Tradecraft makes us different and keeps you protected
Our "Tradecraft" is our unique end-to-end Detection and Response methodology that scales our experienced practitioners by applying proven disciplined procedures and advanced automation.
The DeepSeas Difference: MDR+ Explained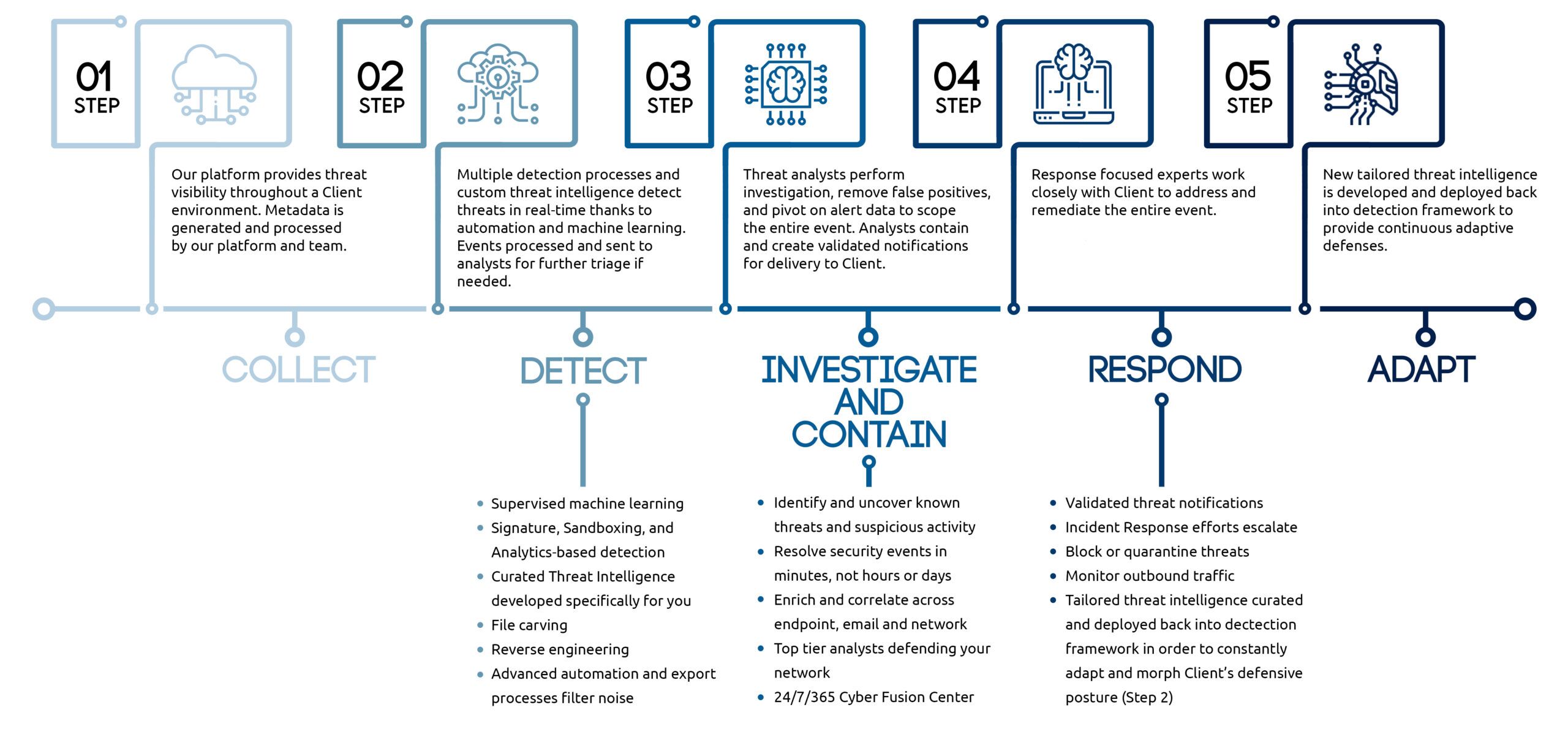 Increase ROI on existing security technology investments
The DeepSeas Cyber Defense Platform integrates with leading enterprise security tools to allow our cyber defense team to harden your defenses, identify threats, and take remediation actions.
The DeepSeas Cyber Defense Platform Makes Your Existing Security Tools Better.
Our Open XDR strategy allows you to maximize the impact of your existing security tech.
The DeepSeas Cyber Defense Platform unlocks extended detection and response (XDR) use cases, utilizing security technologies you may already have. Rather than asking you to replace security tools you have previously made procurement and deployment investments in, we directly integrate with your existing security tools and help you configure them for maximum environment visibility and threat detection impact.
We understand that your security needs are unique, so we meet you where you are on the cyber maturity voyage and help you forge ahead. Our costumer portal can provide you with a turn-key cyber defense command center to help you track threat defense workflows and program metrics, as well as directly interact with our team. Alternatively, our platform API framework enables flexible integration with security service management tools you already use today.
Continuously Improving
Attackers are people. The techniques attackers use are dynamic and evolving, and so are we.
You can count on us to bring unique innovations that continue to increase the depth, scale, and value of your cyber defense program. Examples of our unique solution investments include our machine learning powered advanced threat hunt platform, technical cyber attack simulation that helps verify how effective in-place tools are working, and our low cost log management solution that can contribute to optimizing SIEM license costs.
You'll benefit from our continuous innovation and people development roadmap. Our relationship together will be high touch, as we partner with you to assess, defend, and mature your cyber defense program.
When the cyberseas become dangerous, we take our customers to calm waters.