Only 24% workers in the U.S. used a Virtual Private Network (VPN) when logging into work in 2020. That is less than one third of all employees in the U.S. In order to defend against cyber attacks, businesses must invest in giving each employee a reliable business VPN.
What is a VPN?
A VPN, or Virtual Private Network enables users to send and receive data through shared or public networks through a secure, protected network connection. VPNs are used to keep a company's network private and secure. Since VPNs encrypt a user's online activity, hackers will not be able to see what pages the user accesses, what passwords they use, or any sensitive banking and account information.
How does a VPN work?
A VPN connection establishes a secure connection between the user and the internet. All the data traffic is encrypted, which keeps hackers, government agencies, internet service providers, advertisers, and other third parties from seeing your activity.
When using a VPN, the IP address remains hidden and requires the network to redirect through a specially configured remote server run by a VPN host. As a result, if you access company files through your VPN, the VPN server becomes the source of your data. The VPN filters and encrypts your data, protecting your online activity from being seen.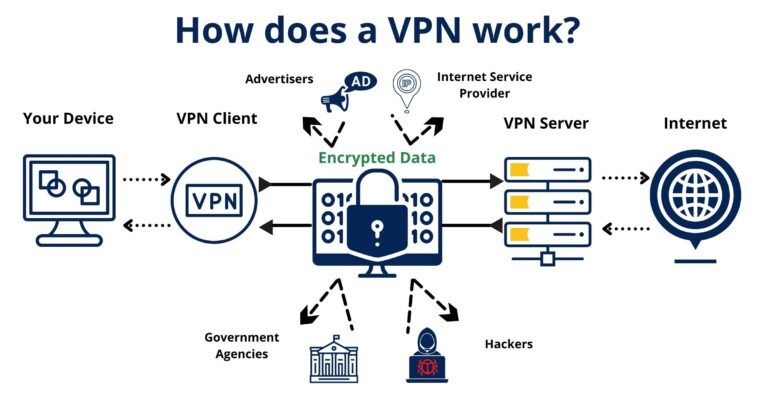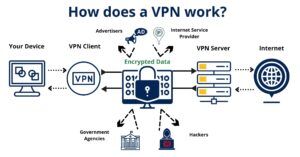 Why your Company needs to start using a VPN
All employees that access the internet, company network, or applications need a VPN. If your employees work in a hybrid work environment, we strongly recommend using a VPN to protect all the data and account information that they access.
There are many benefits to using a VPN beyond security purposes. For example, employees can access company-shared documents and internal sites as if they are working onsite.
For those who want to increase their IT security, VPNs are not considered optional. If you are looking to justify some of your IT budget towards VPN implementation, here are 5 reasons to use VPNs as a way of increasing your security:
5 reasons to use VPNs as a way of increasing your security
Public wifi is unprotected. As employees continue to work remotely, or while they travel, everything they access is visible to those monitoring the public wifi network. You will enable your employees to work safely from anywhere as long as they use the VPN.

As in example #1, any employee working from home will also need a VPN.

If you invest in a VPN for your employees, you will avoid the risk of employees using free service VPNs, which don't work well and can compromise your network as well.

If you implement a VPN for employees, you will also need to educate them on company VPN policy and how it works. This opens the door for regular security awareness training and can improve your overall security stature.

VPNs are a complementary tool to any cyber security system you may already have in place. If this gap is not currently being filled, implementing a VPN as soon as possible can protect your devices from cyber attacks and data breaches.
About Security On-Demand
Security On-Demand (SOD) provides full-spectrum threat management and advanced cyber threat detection services for hundreds of businesses and government agencies globally. SOD's patented, behavioral-analytics ThreatWatch technology enables the detection of advanced threats to protect brand value and reduce the risk and mitigate the impact of a data breach. SOD is headquartered in San Diego, CA with international R&D offices and a Security Operation Center in Warsaw, Poland.
Sources
https://www.cloudwards.net/vpn-statistics/
https://openvpn.net/blog/covid-19-fast-tracks-virtualization-openvpn-study-reveals-remote-work-is-the-future/
https://www.entrepreneurshiplife.com/7-things-not-to-do-when-using-vpn-for-digital-marketing/
https://www.kaspersky.com/resource-center/definitions/what-is-a-vpn
https://network-from-home.com/security-and-privacy/will-a-vpn-hide-my-location-or-can-i-be-tracked/